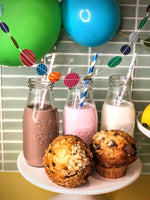 Great Ideas for a Kid's Breakfast Birthday Party
First, let me list why you should plan a breakfast birthday party for your kiddo's next birthday bonanza.
Uhhh...breakfast foods are the best: doughnuts, kolaches, breakfast tacos, pancakes….shall I go on?

Breakfast foods are cheap (unless you start going all smoked salmon and crabs benedict, but why would anyone make that for a kid's birthday).

You're competing with less other events that may be going on the same day.

The parents will thank you cause they get to drop in for a few hours at the start of their day, and they still have a whole chunk of day to do other things after the party.

Most toddlers that are still napping, typically nap mid-day after lunchtime, so you wouldn't be encroaching on nap times (this reason is only for those planning a party with a lot of toddlers attending)   
Now, here are some fun ideas that will get your party going…
YUMMIES: You definitely need some scrumptous bites and sweets to go with your breakfast birthday celebration.
In lieu of a birthday cake, how about a Doughnut Tower like the one by Hostess with the Mostess:
Or this yummy, build your own yogurt bar makes for a healthier breakfast birthday menu from Green Wedding Shoes:
For some extra magic, take a look at these Unicorn Pancakes which will surely have your little guests raving about the party from Little Insipiration
BEVERAGES: For a breakfast party you can never go wrong with classics like orange juice and milk, but there are some fun ways to make even these ordinary beverage options extraordinary.
For example, you can make your milk extra cute and appealing with Sprinkle Rim Milk Glasses from Got Milk:
Or pair your Milk with Donuts from Hostess with the Mostess:
Trying to match a color? Try Coloring Your Milk to match your theme from The Family Palate:
DECOR: Nothing sets the party tone like some snazzy decorations. Here are some great birthday party embellishments that will really bring your breakfast celebration to life.
This DIY for Donut Balloons is so delightful from Studio DIY:
How about a morning sunshine theme with these Sunburst Pom Poms from U Create:
Or a teatime birthday party theme decorated with this Tea Cup Garlands from Oh Happy Day:
ACTIVITIES: Here are some great breakfast birthday themed activities to keep those kiddos entertained and pumped full of sugar (cause everyone loves a toddler with a sugar rush).
Here is a fun way to serve your donuts that will also make for a fun game for your little guests "bobbing for apples" style with these Donuts on a String from Oh Happy Day:
Pinatas are always a fun staple, but make yours a donut with this DIY Donut Pinata from Studio DIY:
How about Making Cereal Necklaces from Tomkat Studio:
So far, breakfast birthdays have been my go-to for all my kid's birthday celebrations, and these were a few easy breakfast birthday elements you can add. Do you have any fun breakfast birthday party ideas?